How Can I Determine the Correct NAICS Code for My Business?
What is NAICS and Who Assigns a Code to My Business?
The North American Industry Classification System (NAICS) is an arrangement between Canada, Mexico and the United States by which businesses are designated based on their type of economic activity.
The NAICS was designed in a way to make it easy for establishments to determine their own NAICS. There is no central agency that assigns or approves a NAICS code for establishments. Instead, businesses self-assign their NAICS codes. You can use IBISWorld to easily look up a NAICS code, industry, or product or service. 
The NAICS code can be a two- to six-digit number. According to NAICS, the first two digits designate the largest business sector, the third digit specifies the subsector, the fourth digit designates the industry group and the fifth digit specifies the NAICS industries. The international NAICS agreement fixes the first five digits of the code, so they are standardized across countries. The sixth designates the national industries or the more granular industry product or service, thus, 6-digit U.S. codes may differ from counterparts in Canada or Mexico.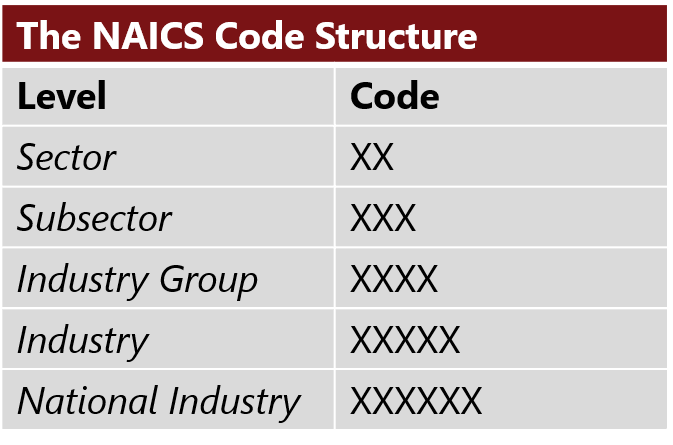 How Do I Start Looking for My NAICS Code?
1. The first step a business should take is determining the primary business activity and revenue-producing lines of business. The NAICS code is meant to describe the primary business activity, which is why businesses that have more than one revenue-producing line of business can attribute more than one NAICS to their business.
Even though one business can have multiple codes, a business should choose the NAICS that is closest to the primary business activity.
Several variables, such as revenue or value of shipments, can be used to determine the primary business activity of an establishment. Primary business activity can also be determined by relative share of production costs and/or capital investments.
2. You can use IBISWorld's NAICS Lookup Tool to find your NAICS code. It's important to keep the keywords simple and as relevant to your business as possible. Generally, it is easier to use a single keyword than multiple words.
Some useful tips:
You can search for your Sector, such as "Manufacturing," and get a list of all the six-digit NAICS codes that fall within the Sector.
If you sell products online (such as art, jewelry, decorations, etc.), your NAICS code is 454110 – Electronic Shopping and Mail-Order Houses.
If you sell products in person at informal locations such as conventions, in your home, or at outdoor markets, your NAICS code is 454390 – Other Direct Selling Establishments.
When using the keyword search, use a single keyword such as dentist or event or pharmacy. If the singular word doesn't work try the plural version. One word searches usually return better results than multi-word searches.
If you import or export you are most likely a Merchant Wholesaler.
If you sell commercial products, you are a wholesaler. For example, if you sell retail medical supplies or heavy equipment, you are considered a wholesaler in the NAICS System.
For any type of rental, use the word "rental" in the keyword search and then look through the results for the correct one. The same goes for "repair."
If you are an event planning company search on the term "event."
Once the list of potential NAICS codes appears, you can search for the NAICS title that most closely describes your business. Click on the NAICS and you'll see an overview of the industry and the types of businesses that are included in the code. If you feel the NAICS describes your business, then you have chosen the correct NAICS.
If not, you can go back to the list of NAICS code and choose another similar industry to look at the overview and compare. You should choose the NAICS that best represents the primary business activity of your business.
Can I have my company's NAICS code changed? 
Changing a company's NAICS code depends on the agency that has assigned the NAICS. There is no central register that has the official NAICS classification for business establishments.  
Some Federal agencies maintain a directory of establishments with their respective NAICS that are assigned based on what information each establishment provides across different surveys and administrative records. In order to change a NAICS, the company should contact the agency that has assigned it directly. 
IBISWorld Industry Research and NAICS
IBISWorld industry reports analyze industries at both the five- and six-digit NAICS level, while also offering corresponding sector reports at the two-digit NAICS level. We offer over 1,300 US Industry Reports, 400+ Canada Industry Reports and 100+ Mexico Industry Reports.
Discover how a subscription to IBISWorld can help you make smarter, faster business decisions.